The First-Timer's Travel to Hanoi, Vietnam
HANOI AT A GLANCE
Hanoi is Vietnam's capital city. Located by the banks of the Red River, it's a city in Northern Vietnam that's the second largest in the country by population. It served as the capital of French Indochina from 1902-1954, before becoming the capital of a reunified Vietnam after the North's victory in the Vietnam War.
From 1010 until 1802, it was the most important political centre of Vietnam. It was eclipsed by Huế, the imperial capital of Vietnam during the Nguyễn Dynasty (1802–1945). In 1873 Hanoi was conquered by the French. From 1883 to 1945, the city was the administrative center of the colony of French Indochina. The French built a modern administrative city south of Old Hanoi, creating broad, perpendicular tree-lined avenues of opera, churches, public buildings, and luxury villas, but they also destroyed large parts of the city, shedding or reducing the size of lakes and canals, while also clearing out various imperial palaces and citadels.
From 1940 to 1945 Hanoi, as well as the largest part of French Indochina and Southeast Asia, was occupied by the Japanese. On September 2, 1945, Ho Chi Minh proclaimed the Democratic Republic of Vietnam (North Vietnam). The Vietnamese National Assembly under Ho Chi Minh decided on January 6, 1946, to make Hanoi the capital of the Democratic Republic of Vietnam. From 1954 to 1976, it was the capital of North Vietnam, and it became the capital of a reunified Vietnam in 1976, after the North's victory in the Vietnam War.
October 2010 officially marked 1,000 years since the establishment of the city.[6] The Hanoi Ceramic Mosaic Mural is a 6.5 km (4.0 mi) ceramic mosaic mural created to mark the occasion.
BEST TIME TO VISIT
Hanoi technically has two main seasons – rainy (May-Sept) and dry (Oct-Apr). However, it does experience variances in weather that can simulate the four seasons. Here's what it's like to visit Hanoi during the different seasons:
SPRING (Feb-Apr): Spring is one of the best times to visit Hanoi. Weather is still mild with temperatures ranging between 15-20°C (59-68°F). The skies are clear from February to March but it does start to drizzle more frequently come April. Please note that Spring may also coincide with Tet (late Jan or early Feb) which is the Vietnamese New Year. It's the most important celebration in Vietnamese culture so expect many establishments to be closed during that time.
SUMMER (May-Aug): Like the rest of Southeast Asia, summers in Hanoi are hot and humid. The average temperature is about 32°C (90°F). On top of that, it's officially the rainy season as well with August seeing the most rainfall. Unless you have a thing for that type of weather, then it's best to avoid Hanoi in summer.
FALL (Sept-Nov): Like Spring, Fall is an ideal time to visit Hanoi. The weather is mild with average temperatures hovering around 25°C (77°F). Skies become clearer in November and leaves turn golden-yellow, making it the perfect time to explore the tree-lined boulevards of the Old Quarter and Hoan Kiem Lake. Fall is considered the most beautiful time to visit Hanoi.
WINTER (Dec-Jan): For a Southeast Asian country, it's said that winters in Hanoi can be surprisingly cold. The average temperature is around 17°C (63°F), but it has been known to drop down below 10°C (50°F). High humidity, wind chill, and a lack of building insulation make it seem even colder. Be sure to dress appropriately should you decide to visit Hanoi in winter.
We visited Hanoi in mid-April and the weather was ideal. It didn't rain once and the weather was mild, though it did get hot walking around during the day. I don't remember it feeling very humid though, which was great. April is a wonderful time to visit Hanoi, but from the sound of it, November may even be better.
WHERE TO GO / WHAT TO DO?
1. Take a Stroll in and around Hanoi's Old Quarter
Hanoi is an interesting city. It may be old and dilapidated in parts but it's a city full of character. As previously described, we stayed in the Old Quarter which is the ideal place to stay in the capital city. With its French colonial architecture and many tree-lined boulevards and alleyways, its a fun place to explore on foot. Start there and make your way to the city's most popular attractions like Hoan Kiem Lake, Hoa Lo Prison, and the Ho Chi Minh Mausoleum.
Old Quarter, Hanoi: Small Corner of old quarter of Ha Noi
Old Quarter, Hanoi
As described, we stayed in Hanoi's Old Quarter which is arguably the best and most convenient place to stay in the city. Around since imperial times, it used to be a commercial center where every street specialized in one specific type of manufacturing or commerce. Some areas are still like that today but much of it has been taken up by hotels, shops, restaurants, and cafes. There are countless hotels in the Old Quarter for you to choose from but we stayed at this charming bed and breakfast called Hanoi Little Town Hotel.
2. Go on an Overnight Ha Long Bay Cruise
About three hours east of Hanoi, Ha Long Bay is a UNESCO World Heritage Site and one of the most popular tourist destinations in Vietnam. It's home to jade green waters and some 2,000 islets, most of which are made from limestone. Day trips to Ha Long Bay are available, but in my opinion, it's best enjoyed on an overnight cruise. If you're spending enough time in Hanoi, then a cruise in Ha Long Bay is a must.
Hạ Long Bay: Quang Ninh- Viet Nam
3. Take a Day Trip to Hoa Lư and Tam Cốc
Northern Vietnam is known for its impressive landscape of towering limestone karsts. With several days to fill in Hanoi, we decided to go on this day trip to Hoa Lư and Tam Cốc in Ninh Bình Province. About two hours south of Hanoi, highlights include a visit to King Dinh Temple and a boat ride along the Hoang Long River surrounded by rice paddy fields and limestone mountains on all sides.
Check out my post on Hoa Lư and Tam Cốc for more pictures and information.
4. Watch a Water Puppet Show
If you're interested in a cultural show that's unique to Vietnam, then you may want to catch a water puppet show at Thang Long Water Puppet Theater in Hanoi. Located by Hoan Kiem Lake, you'll be treated to an hour-long performance of water puppets reenacting Vietnamese folktales and legends while accompanied by a live orchestra.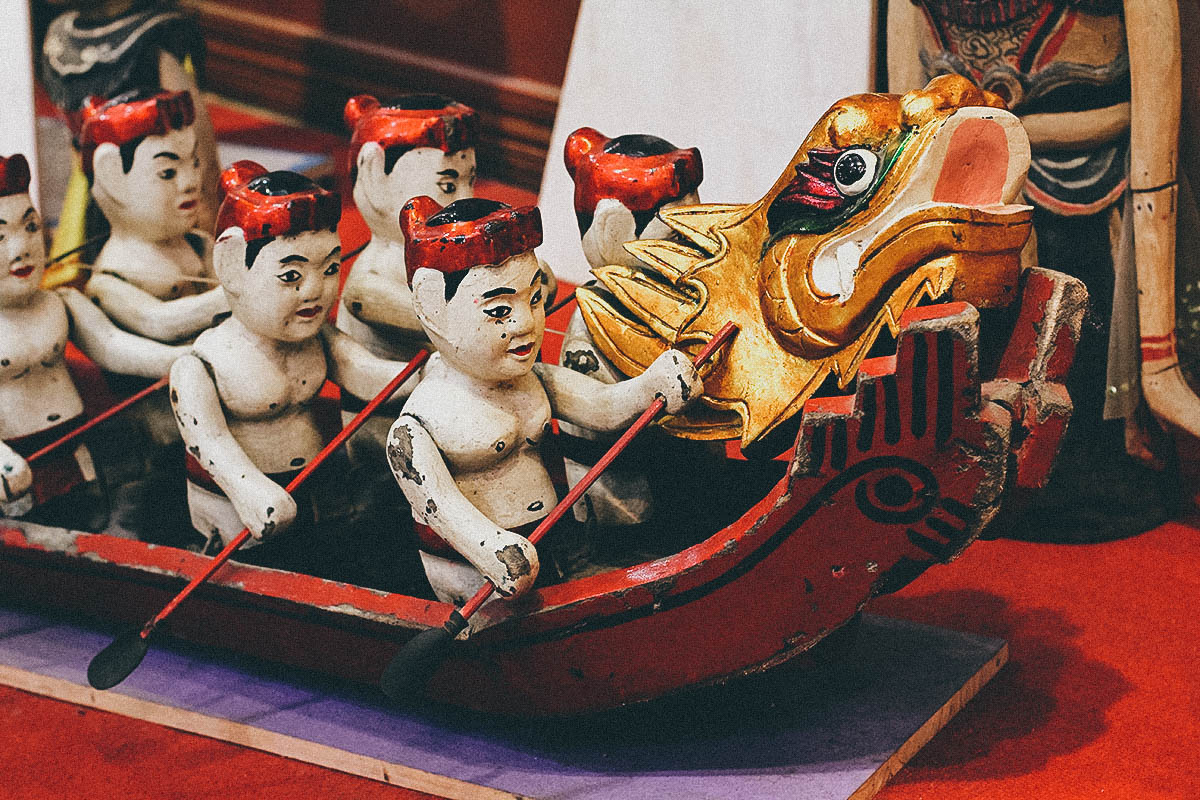 Length of Show: About 1 hr / Admission: VND 100,000
5. Hire a Private Tour Guide
If you have something specific you'd like to do in Hanoi, then you may want to hire a private guide. We told Alex, the founder of Inspitrip, that we wanted to experience authentic street food in Saigon so that's exactly what we did. He took us to several street food stalls and restaurants frequented mostly by locals, many of which we never would have found on our own. Though based in Saigon, Inspitrip connects travelers with local insiders in Hanoi as well.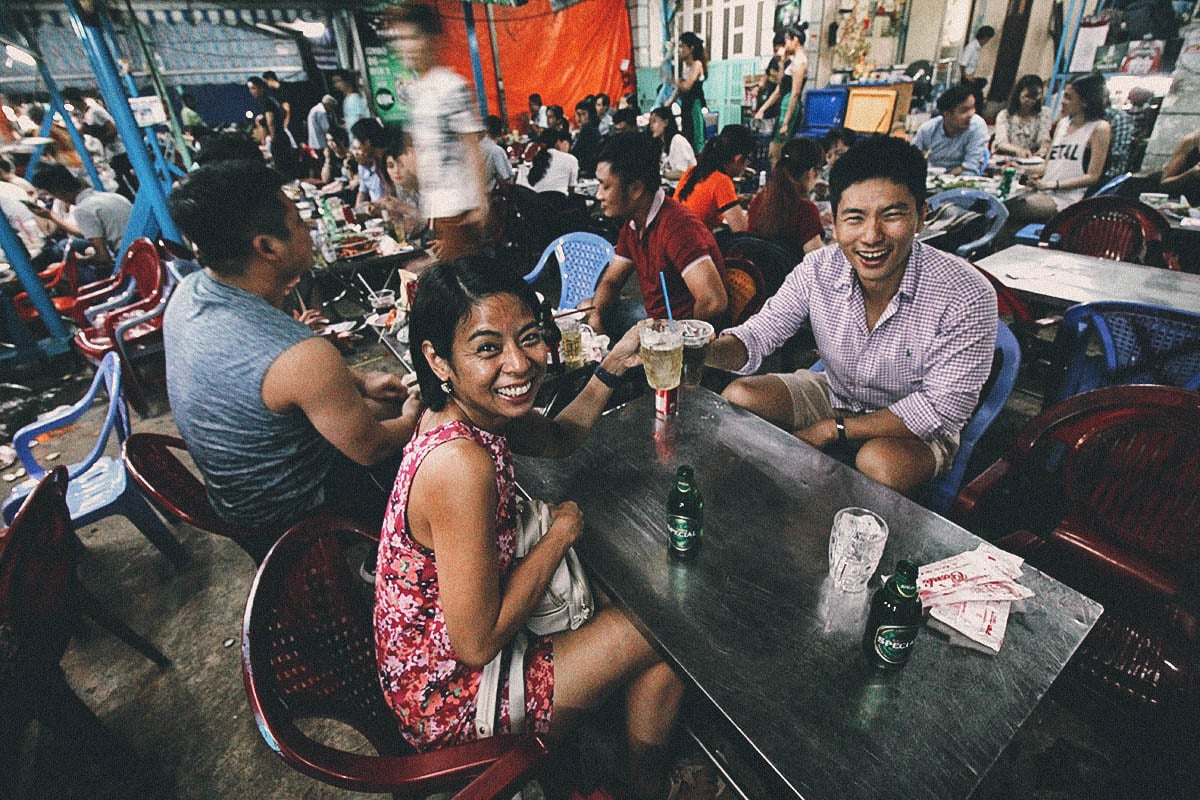 THE ULTIMATE VIETNAMESE FOOD GUIDE
Vietnamese food won me over. I wasn't the biggest fan before our trip, but after spending two weeks exploring over fifty different dishes across the country, I left Vietnam with a newfound fascination and respect for the cuisine.
Vietnamese food is all about balance. It aims to achieve harmony in different aspects of cooking like taste, nutrients, and presentation. Fried foods are tempered with fresh greens, soft noodles with crunchy vegetables, warm pork with cold vermicelli. Phở and bánh mì may be the most popular dishes, but you'll see after reading our Vietnamese Food Guide that the cuisine has so much more to offer than that. From bánh cuốn in the north to cao lầu in Central Vietnam to cơm tấm in the south, you'll be pleased to find that Vietnamese food is every bit as diverse as its landscape.

WHERE TO EAT IN HANOI
16 Must-Try Vietnamese Restaurants & Street Food Stalls
While the link above takes you to a general Vietnamese food guide, this one focuses on must-try Vietnamese restaurants and street food stalls in Hanoi. Ren consulted respected food blogs and crowd review websites to come up with a list of 16 must-eat places in Hanoi. From nationwide favorites like phở and bún riêu to northern specialties like bún chả, this list will show you where to find some of the best places to eat in the city.
If you don't have time to visit all 16, then below this picture you'll find our top 5 favorites, listed in no particular order. Be sure to click into the complete list of must-eat restaurants in Hanoi to know where they are.

1. Bun Cha Nem Cua Be Dak Kim
It may not be a national dish, but bún chả is one of Hanoi's most popular and beloved dishes. It consists of grilled fatty pork (chả) served with white rice noodles (bún) and fresh greens like lettuce, perilla, coriander, and mint.
The pork comes in meatball patty form, along with some grilled pork belly, and served in a soupy bowl of pickled vegetables that impart acidity to the dish. It's so popular in Hanoi that it's the reason why a similar dish, called bún thịt nướng, is served everywhere in Vietnam except Hanoi. In this city, bún chả is king. You can find it in many restaurants but Bun Cha Nem Cua Be Dak Kim is said to serve some of the best in Hanoi.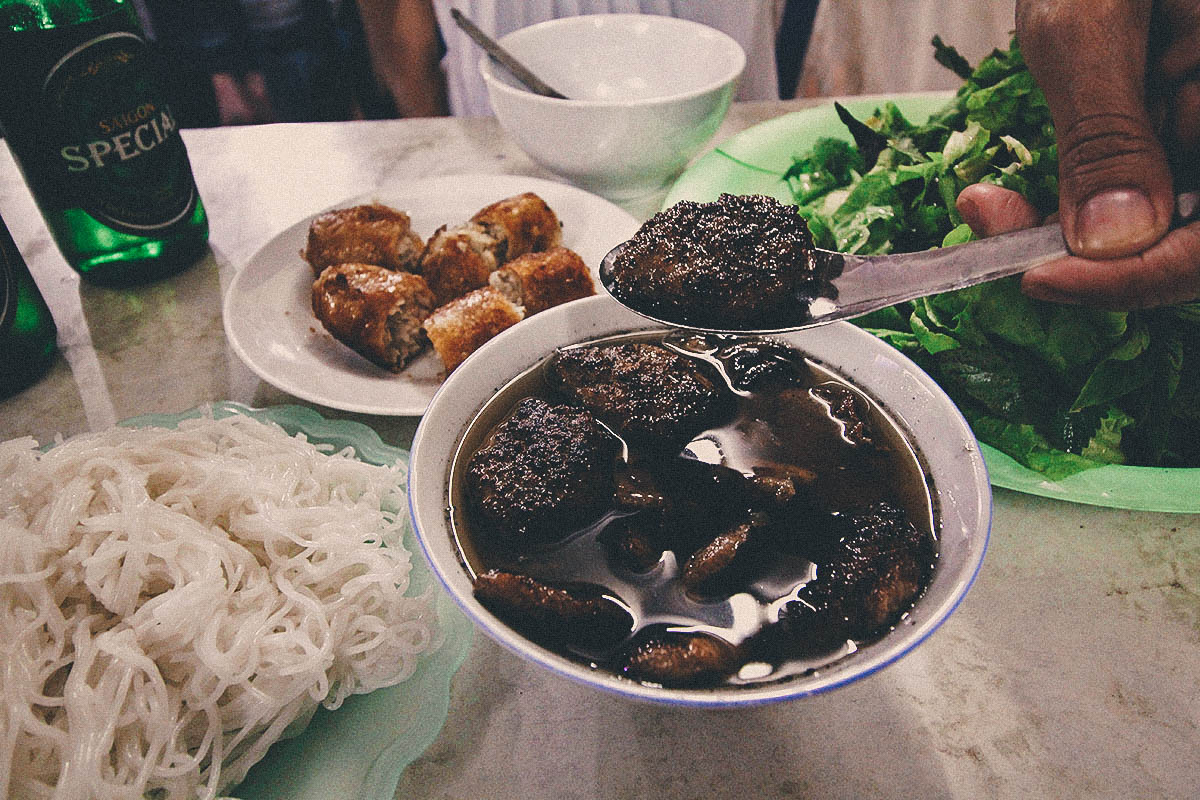 Expect to Pay: Around VND 90,000 per set meal
2. Pho Thin 13 Lo Duc
Phở may enjoy nationwide (and worldwide) prominence but it has its roots here in Hanoi and the north. This rice noodle soup dish can be found everywhere in Hanoi but some of the city's best phở is served at Pho Thin 13 Lo Duc.
Unlike classic pho bo (beef pho) where the beef is just boiled, the beef at Pho Thin is stir-fried with garlic first before being added to the soup. This minute innovation added new flavor components to the dish, turning a traditionally gentle stock into a more richly layered broth. Like typical northern phở, Pho Thin's beef pho is served with plenty of green onions.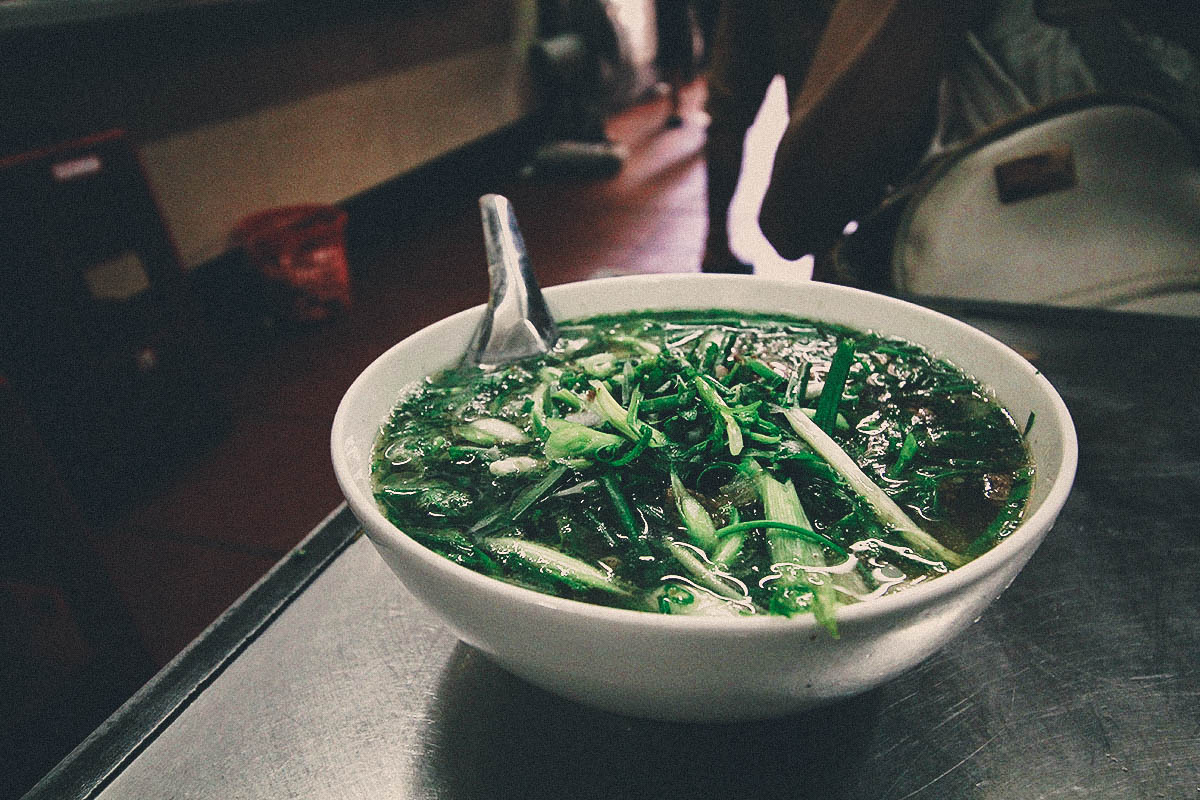 Expect to Pay: VND 50,000 per bowl of pho
3. Chả Cá Thăng Long
Oh my lord was this good. Another specialty of Hanoi, chả cá lã vọng refers to a dish of grilled catfish served with a mountain of fresh dill. The fish is cut into matchbox-sized nuggets and marinated in galangal, turmeric, and other spices. It's then grilled on charcoal before being brought out to pan fry on your table with a forest of dill and spring onions. Smokey with an herbal aroma, the fish is tender and flaky on the inside with a slightly charred, caramelized coating. DO NOT miss this dish when in Hanoi.
It's interesting to note that the dish is named after the restaurant which invented it. The Chả Cá Lã Vọng restaurant is still open today, but based on its TripAdvisor reviews, it's best days may be behind it. Go to Chả Cá Thăng Long instead.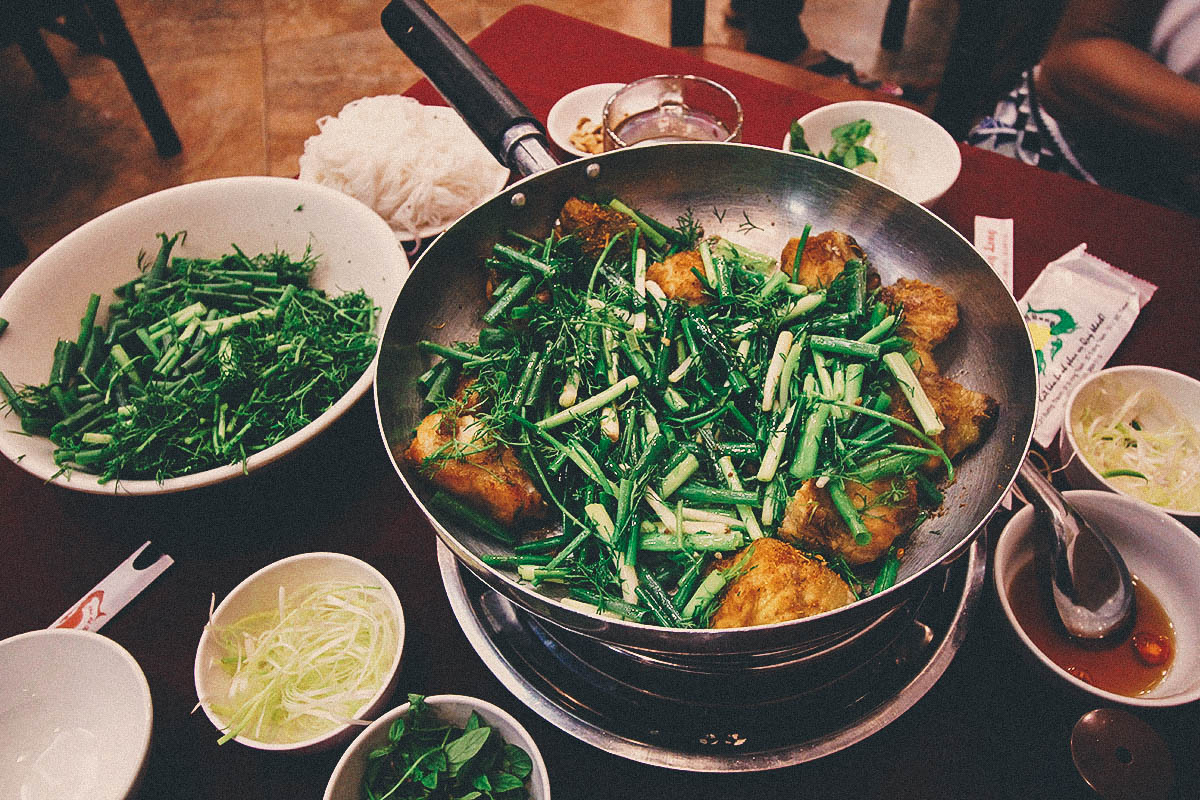 Expect to Pay: VND 120,000 per person
4. Bánh Cuốn Gia Truyền Thanh Vân
Bánh cuốn is another Hanoi specialty that's enjoyed throughout Vietnam. It's made from a thin sheet of steamed fermented rice batter filled with seasoned ground pork and wood ear mushrooms. Think of them as Vietnamese versions of chee cheong fun served at Chinese dimsum restaurants. Soft, slippery, and a little gummy, they're topped with herbs and fried shallots and served with a bowl of nước chấm (fish sauce). One of the most popular places to have bánh cuốn in Hanoi is at Bánh Cuốn Gia Truyền Thanh Vân.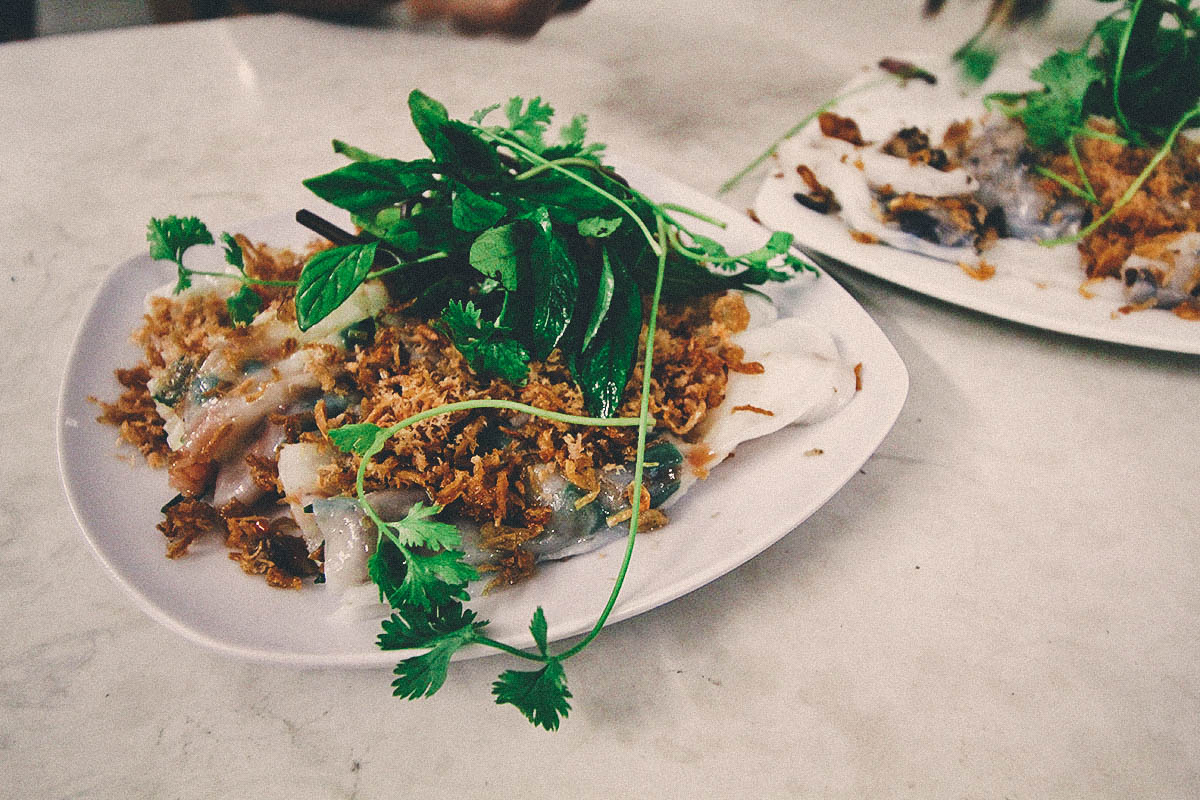 Expect to Pay: Around VND 45,000 per order of banh cuon
5. Bia Hoi Corner
This isn't a dish but it's so quintessentially Hanoi that you can't go to this city without visiting this place at least once. Bia hoi refers to a specific type of Vietnamese draft beer with a low alcohol content of about 3%. Often marketed as the world's cheapest beer, a glass of bia hoi costs anywhere between VND 3,000-7,000 (around USD 0.13-0.31). Brewed daily and without preservatives, freshly made batches are delivered in steel barrels during the day and typically consumed that same evening.
Many bars throughout the city serve bia hoi, but there's no better place to have it than at Bia Hoi Corner at the junction of Ta Hien and Luong Ngoc Quyen Streets. It looks like any other street corner during the day but at night, it transforms into a lively mix of locals and tourists sitting on low plastic stools and enjoying cheap beer. It's a fun atmosphere and a must-do in Hanoi.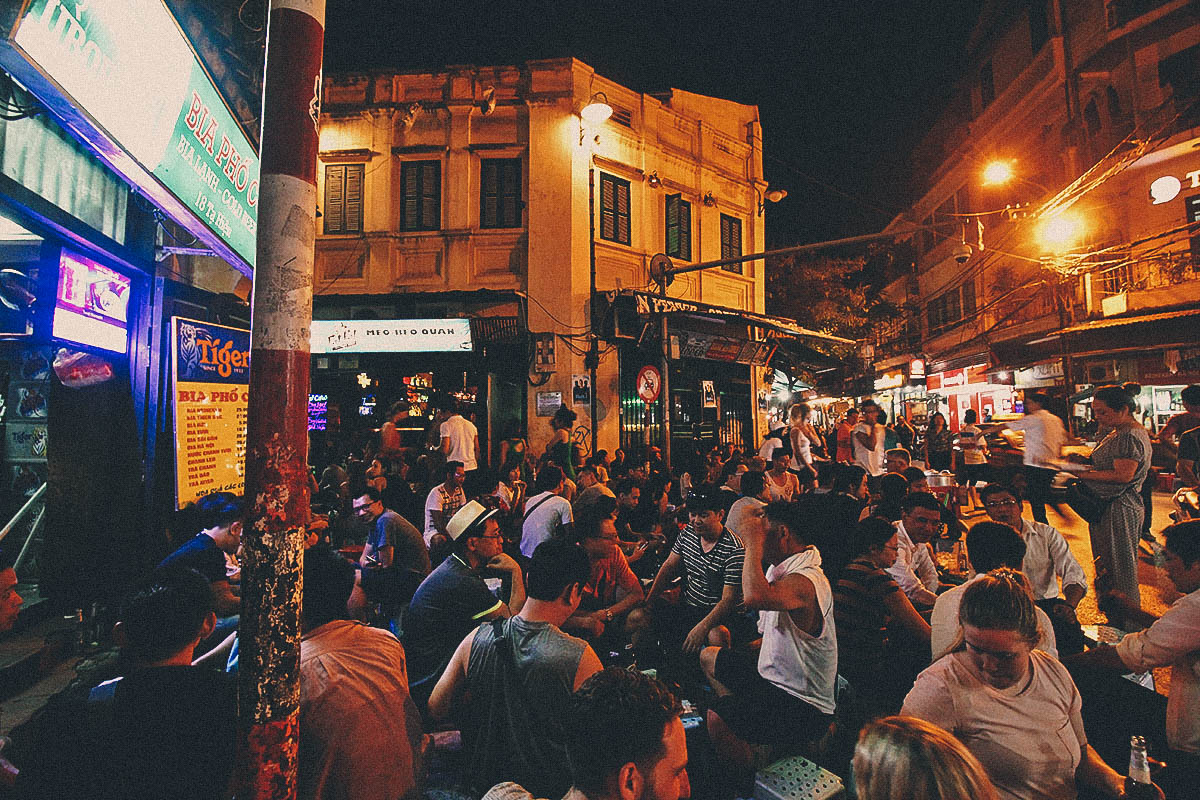 Expect to Pay: Around VND 3,000-7,000 per glass of bia hoi
Have fun!
I'm not an expert on Hanoi but I do hope that you find this guide useful. I'm only sharing some of the things I learned from our trip. If you have any suggestions or simply want to share your own experiences, then please feel free to do so in the comments section below. Thanks !